Do not do business alone when you have numerous tools to use. ClickFunnels and Instapage are among the most popular choices. They will transform your marketing performance and boost your sales to a higher level.
The problem is that both tools are excellent, so how can you pick the better one?
Don't worry. The side-by-side comparison between ClickFunnels vs Instapage in the article will clarify this.
First, let's look at these key takeaways:
ClickFunnels offers more cost-effective plants.
ClickFunnels pays more attention to sales funnel management, while Instapage focuses on building seamless landing pages.
Instapage only accepts refunds during the first 24 hours, while ClickFunnels has a 30-day refund policy.
ClickFunnels is better if you intend to build sales funnels or need an all-in-one tool to do your business.
Instapage suits you more if your only purpose is to build high-converting landing pages.
ClickFunnels vs. Instapage Compared: TL'DR
We consider factors to determine if a marketing tool can perform a good job. Hence, to compare ClickFunnels vs. Instapage, we will apply the same criteria.
This comparison table will help you picture how these tools differ and at which standard each outshines the other.
Criteria
Clickfunnels
Instapage
Sales Funnel Builder
Powerful builder
Basic
Landing Page
Basic
Excellent builder with multiple tools
A/B Testing
Good
Good
Sales & Marketing Features
Multiple features
Landing pages are the main focuses
Membership Sites
Excellent
Not included
Speed
Slower
Faster
Analytics Tools
Google Analytics
Google Analytics and internal systems
Customization
Good
Excellent
Integrations
Multiple choices
Multiple choices
Free Educational Content
More sources
Good
Customer Support
Good
Excellent
Price
Basic: $97/month
Platinum: $297/month
Building: $199/month
Converting: Customized
Free Trial
Get Clickfunnels 14-day trial
Get Instapage 14-day trial
ClickFunnels Overview
ClickFunnels has been famous for its multiple features, making it an all-in-one marketing tool solution. Here are the pros and cons that the software offers you.
Pros
ClickFunnels is an all-in-one marketing tool.
There is a guaranteed 30-day money-back policy.
You can sign up for the affiliate program as a user and generate income for yourself.
The templates have a fantastic drag-and-drop page-building feature and are adaptable to mobile devices.
The website offers regular webinars with Q&A help.
You will have six pre-built funnels.
The site integrates with many email services and payment providers.
The funnels can simply have extra pages added or removed.
There is a vast ClickFunnels community on Facebook that you can access anytime to learn from other users.
Cons
Although there are many integrations, you cannot integrate with a landing page app from a third party.
ClickFunnels has many features, which might make it challenging to master all.
You can only use three custom domains with your entry-level plan.
Read more: Clickfunnels review – Everything you should know
Instapage Overview
Unlike ClickFunnels, Instapage focuses mainly on landing pages.
This landing page builder gives you all the tools you need to create landing pages successfully.
Before working with Instapage, expect the following benefits and drawbacks.
Pros
With a straightforward drag-and-drop user interface, Instapage features one of the most exceptional landing page builders in the category.
There are more than 100 landing page templates on Instapage, and you can access more on ThemeForest or other marketplaces.
With technical know-how, you can build landing pages effortlessly due to the ability of the site to integrate CSS, HTML, and JavaScript.
No traffic restrictions apply when working with this landing page tool.
There are excellent real-time collaboration tools in Instapage.
Built-in analytics tools are diverse.
Your working process will go smoothly thanks to the high loading speed.
You will have a satisfying experience with customer service.
Cons
The process of running and managing a sales funnel is complicated and requires numerous tools and integrations.
The time it takes for the support to reply to your question can be long.
Since Instapage focuses primarily on optimizing your landing page, you may need to work with multiple integrations for other tasks.
Instapage vs. ClickFunnels: Feature Comparison
This section will dig deeper into every component of the two platforms.
At the end of each round, we declare the winner, so you'll know the right tool for your specific purpose.
Sales Funnel Builder
The most significant value of ClickFunnels is that you can build an entire sales funnel using just one tool. It even has event reminders and email follow-ups for your best experience.
Using the software, you can construct multiple sales funnels in one place. There won't be any difficulty handling membership websites, webinars, product sales, and many other goals.
You can launch a sales funnel with a few clicks on ClickFunnels because it has pre-made templates for the most common goals.
All you need to do is choose your funnel's objective and let the system build your landing page and email.
What's more, ClickFunnels also manage other aspects of a sales process, such as payments. It is responsible for everything needed for a campaign.
Although you can use Instapage to build a sales funnel, it is not an all-inclusive tool. You must use an integration like Drip or MailChimp to email your prospects. For payments, you need to work with PayPal or Stripe.
As a result, if you want to maximize your sales funnel's performance, ClickFunnels should be your way to go.
You don't have to switch between the sites to run your campaign, as you find everything on this platform.
Winner: ClickFunnels
Landing Page Builder
Good landing page builders should equip you with enough tools to build your page. And in this round, the Instapage landing page builder wins.
ClickFunnels gives you a simple, user-friendly landing page builder. It's not a really powerful tool.
Yet, if you want to collect emails, sell products, or host webinars, the ClickFunnels landing pages will perform their job.
You can use the drag-and-drop editor to build landing pages. Simply add elements, like headings or images, and you will have a beautiful webpage.
ClickFunnels has other elements, like a purchase button and a countdown timer.
Moreover, the sales pages are compatible with mobile devices, so you don't have to make a different mobile version.
Although the landing page builder of ClickFunnels is good, Instapage will bring you better tools. It always makes its name in the most powerful landing page builders in the industry.
While ClickFunnels uses a drag-and-drop editor to design the page, Instapage has specialized landing page builder tools, such as Instablocks and Global Blocks, to maximize the landing page builder.
Instablocks create your landing page at scale and work at its best if you pay for digital advertising. In essence, you build customized blocks that you may reuse after generating and saving them.
Besides, you can quickly generate hundreds of landing pages by copying the blocks. Testimonials, footers, and headers are examples of content page blocks that you can turn into templates and reuse them.
The Global Blocks help you update some parts of your landing pages simultaneously. This feature is handy whether you need to update material or you want to modify your pages with a new call-to-action.
Moreover, Instapage helps you use customized landing pages. You can modify them easily to fit a specific audience.
Winner: Instapage
Landing Page Templates
More than 100 templates are available in ClickFunnels, which you may edit to match your brand perfectly.
The drag-and-drop editor allows you to make the best of your landing pages. But even with such terrific features, ClickFunnels can't beat its competitor.
Aside from over 100 fully customizable templates, Instapage includes many aftermarket templates that you can use on other platforms, like ThemeForest.
It's simple to use and flexible to utilize the Instapage landing page templates.
To customize your pages, you can access 33 million stock pictures and more than 5,000 fonts.
As you can see, you will not go wrong with Instapage in this term as it always remains in the top list of landing page builders.
Winner: Instapage
A/B Split testing
A/B testing is available in both Instapage and ClickFunnels, so you can evaluate which landing pages perform better than others.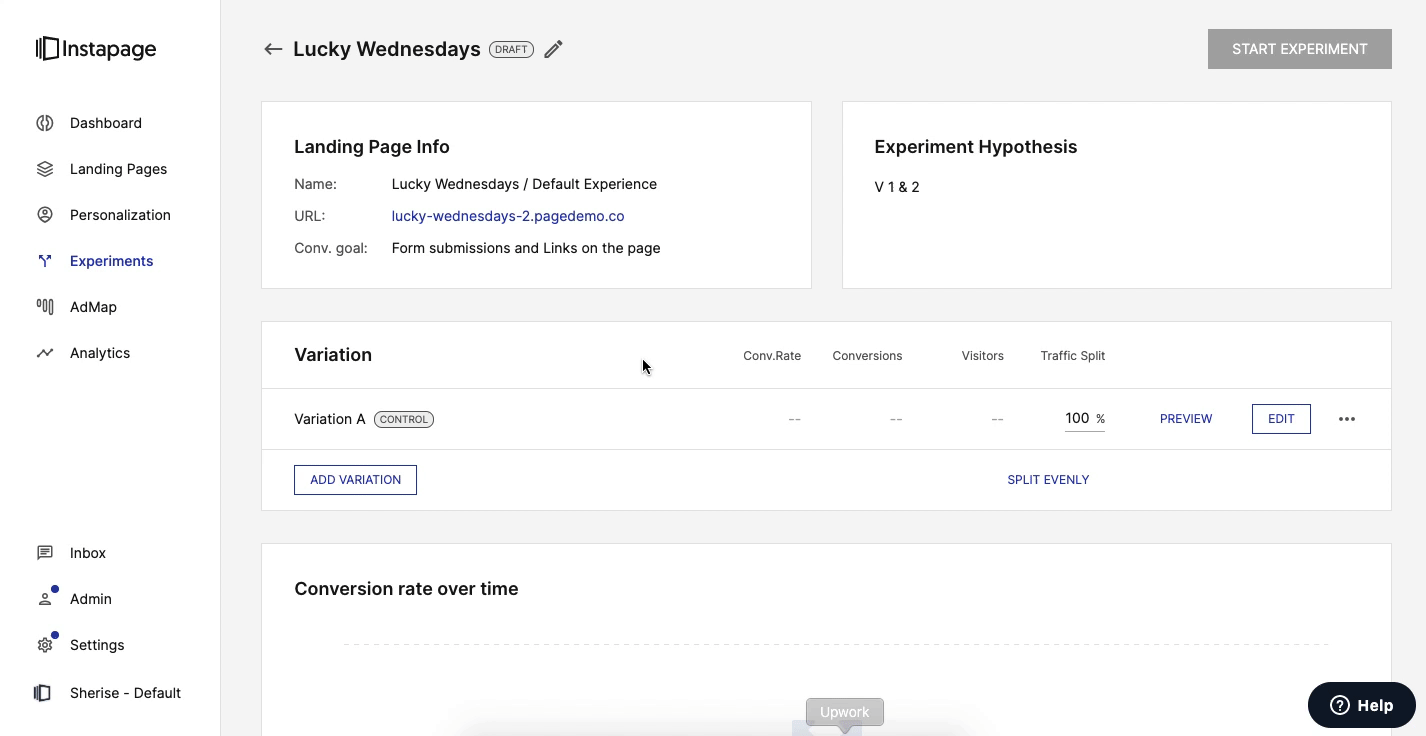 After determining which landing pages are running well, you can boost them better. Alternatively, try adding new features or content to it. Then, run another test to compare and conclude whether the additions can work.
The A/B testing tools provided by the two platforms can help you monitor your visitors, increase conversion rates, and optimize the effectiveness of your marketing efforts.
Moreover, you may modify and test various components, such as buttons, headings, and photos, by editing and duplicating the landing pages.
Sales & Marketing Features
ClickFunnels has numerous features for automation marketing, live chat, webinars, and call tracking. It helps you gather prospective leads, after which you can export the contact lists as a CSV file.
Although Instapage is simply a landing page software, you can combine it with other sites. WordPress and Facebook are some compatible options.
Because it provides a whole sales and marketing tool, ClickFunnels is superior at helping you convert potential leads into customers.
On the other hand, landing page builders are what Instapage excels at.
Winner: ClickFunnels
Membership Sites
You can build membership landing pages using ClickFunnels to engage with your members. This functionality can direct members to a landing page for sales or conversions and create email follow-ups.
Stripe, PayPal, and other payment methods are available through ClickFunnels.
Using multiple landing pages, you can customize options and take alternative pricing points to serve different audience groups.
Unfortunately, Instapage does not offer a membership site feature.
Winner: ClickFunnels
Page Speed
Instapage has a faster loading speed than its competitor. Your post-click pages will load thanks to Instapage's Thor Render Engine rapidly, ensuring that you never miss a prospect of slow-loading landing pages.
APM is another tool that speeds up Instapage pages. The immediate loading of AMP landing pages provides a fluid mobile browsing experience.
Furthermore, it decreases bounce rates and raises interaction on post-click sites that load quickly.
However, according to the latest announcement from ClickFunnels, you will experience a speedier process with its ClickFunnels version 2.0.
Winner: Instapage
Ecommerce Features
With the aid of landing pages, you may use ClickFunnels to sell physical goods online. Lead generation is only one-half of the process.
Converting those leads into customers will be the true test. You can target clients using ClickFunnels at every phase of your customer journey.
Meanwhile, you can only create landing pages using Instapage; it doesn't include sophisticated e-commerce features.
Winner: ClickFunnels
Team Collaboration
With visual collaboration, Instapage speeds up the review, certification, and launch processes for landing pages for your team.
You can accelerate the review procedure by giving and answering real-time input. And by compiling feedback on the page, you stay focused and organized.
ClickFunnels hasn't included this feature in its package yet. However, the company has claimed to update it to the 2.0 version.
Winner: Instapage
Analytics Tools
You can examine the basic data and metrics supplied by Instapage, including the number of visitors, bounce rate, and effective conversions. The tool allows you to filter the data by time and traffic source.
You may check ClickFunnels to determine how many times potential clients have visited your landing page and sales and revenue prospects.
ClickFunnels and Instapage support Google Analytics which gives greater analytic modules.
However, Instapage is superior overall since it has superior internal analytics. The internal systems offer many valuable capabilities, like the cost per lead estimates.
Since it integrates with Google Analytics, perhaps the best and most well-known third-party analytics engine, ClickFunnels isn't too far behind.
Winner: Instapage
Customization
Both platforms utilize numerous templates that you may customize for creating landing pages. Given that ClickFunnels is the older platform, its templates may be a little outdated.
There are more than templates available on Instapage, each with a sleek, contemporary design.
Additionally, Instapage automatically sorts them according to their sector. As a remarkable landing page builder, you won't be disappointed using this tool.
Winner: Instapage
Integrations
You should use Instapage in conjunction with your other tools because it is a landing page-specific software.
For example, Facebook and WordPress are common social media platforms to work with this landing page software.
Besides, you have integrations for marketing automation, email marketing, webinars, analytics, and live chat. Aside from creating landing pages, you may need third-party tools to handle other tasks.
Although ClickFunnels is kind of a one-stop destination for sales and marketing, you may still integrate with other tools if you want. Constant Contact, MailChimp, HubSpot, Facebook, Infusionsoft, and Zapier are a few of these.
Draw
Free Educational Content
Both ClickFunnels and Instapge offer a huge resource library so users can follow to understand more about the tool. Before starting your campaigns on these sites, remember to check the tutorials carefully.
Regarding educational content, ClickFunnels will be a more powerful resource as it includes a free platform for training users, which is Funnel Flix.
With the help of FunnelFlix, you may expand your understanding of marketing systems, optimal efficiency, business strategy, copywriting, mindset, sales, and sales funnels.
You will be able to utilize, watch, and engage in the learning resources that Russell Brunson, co-founder, and CEO of ClickFunnels, has made accessible to you once you have registered for the Platinum plan.
Winner: ClickFunnels
Customer Support
The customer services given by ClickFunnels include 24-hour chat support and 24/7 ticket support. A help center is also accessible.
If you need community-based support, go for the ClickFunnels Facebook group.
The group also provides strategic support that works better than just answering your questions. However, this help is from ClickFunnels users, not the company.
Hence, there won't be any guarantee on the quality and speed.
Meanwhile, users of Instapage can submit support tickets and access an automatic help center from Monday through Friday.
On weekdays, you can use this approach to explain your issue and receive a solution within a few hours to a day.
Winner: Instapage
ClickFunnels Vs. Instapage: Pricing Compare
ClickFunnels and Instapage offer two plans for users, with ClickFunnels being the cheaper one.
The two plans of ClickFunnels are Basic and Platinum. The Basic plan costs $97 per month and has everything you need to generate leads. For example:
20 funnels
100 pages
20,000 monthly visits
3 custom domains
3 payment gateways
Unlimited contacts
1 sub user
Email Support
FunnelFlix
The Platinum plan costs $297 per month. A higher price provides unlimited growth, dramatically boosting your sales funnels. Here is the list of its benefits:
Unlimited funnels
Unlimited pages
Unlimited monthly visits
Unlimited contacts
3 sub user
9 custom domains
9 payment gateways
Priority support
FunnelFlix Platinum
Follow-Up funnels
Weekly Hackathons
Backpack
The Building plan of Instapage is $199 per month. But if you choose the annual pricing method, it only costs $149 per month.
Using this plan, you will have:
Unlimited conversions
Unlimited domains
A/B testing
Instablocks®
AMP Pages & Experiences
AdMap®
Thor Render Engine®
Postclick Score®
SSL Encryption
The company has a customized plan, allowing you to choose which features to have in your plan. Then, the price will differ.
What Makes ClickFunnels Better Than Instapage?
We have compared the two tools in various aspects, but there are some features that you can only use on ClickFunnels.
Email Marketing
On ClickFunnels, creating an email marketing process for your sales funnel is simple. Since you can handle everything in one app, you won't need to use MailChimp, Aweber, or any autoresponder app.
You can also use Actionetics, the email autoresponder that comes with ClickFunnels. This tool assists you in interacting with your leads without integrating with outside services.
Affiliate Tools
You can use ClickFunnels to run your own affiliate programs easily. From within the system, you may hire affiliates, ask them to advertise the services or products your company is providing, and manage their compensation.
You can quickly analyze and control your visitors' progress while marketing your services using the ClickFunnels affiliate dashboard tool.
The affiliate sales dashboard also enables you to check your affiliate data, including sales and income.
What Makes Instapage Better Than ClickFunnels?
Instapage is also proud of its unique features that you can't find in ClickFunnels, and they are:
Ad Map
Instapage's AdMap is what you need if you're looking for a solution to simplify Google Ads with the content you've established with your landing page builder.
You can visualize and monitor your landing page links with this feature.
Personalization
This landing page tool encourages you to customize your landing pages in every element. You can add unique CSS, HTML, and JavaScript to your landing pages if you have the technical expertise to use them.
Heatmaps
One of the signature features of this landing page software is its Heatmap.
This sophisticated monitoring feature enables you to monitor your visitors' activities on your landing page, tracking their journey on each landing page and the sections they click on.
Unlimited Domains
You can only get unlimited domains with ClickFunnels Platinum plans.
With its basic plan, there are only three domains to use. Yet, Instapage doesn't limit your custom domains, no matter which plans you choose.
Final Verdict: ClickFunnels vs. Instapage, Which One Is Better?
Both ClickFunnels And Instapage are amazing tools for improving your business. So when to use which?
Get ClickFunnels if:
You appreciate monthly financial savings.
You might not have much experience with marketing.
You want to earn revenue or perhaps sell goods, deals, or services.
You want to create both customized landing pages and sales funnels.
Get Instapage if:
You need a better experience with customer service.
You don't really care about the slight price increase.
You believe you are a competent marketer or have experience in the field.
You don't need whole sales funnels; you only want to create landing pages effectively.
After reading all the information above, you should come up with an idea of which tool satisfies your needs better.
Please share with us your experience with your chosen solution right here. We are eager to hear from you!
Thank you for reading!
Other Clickfunnels comparisons